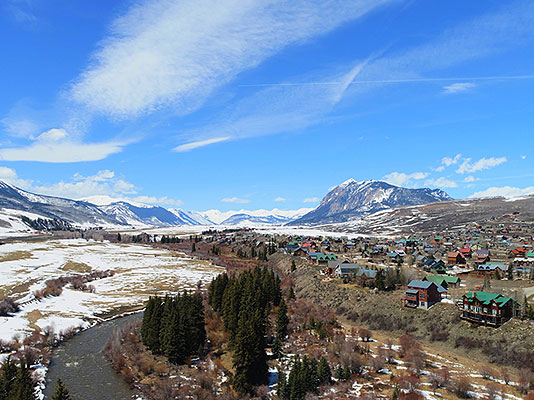 General Design Guidelines
Residential Design Guidelines
CB South Rules and Reg
CBS Overview Plat Map
Amenities
CB South has a number of unique amenities including a hockey rink, soccer field, tennis courts, restaurants, a coffee shop and a preschool. National Forest access is less than a 5-minute drive off of Cement Creek and one of the best early season hiking trails called the Caves Trail. Cement Creek is also used for dirt biking, mountain biking, fishing, hiking and nordic skiing in the winter. Within the subdivision, there are 30 acres designated as open or park space. Of those 30 acres, 12 are centrally located in Red Mountain Park, which is the main park for this community. Red Mountain Park offers a wide variety of activities and amenities including bike trails, boulder climbing, covered picnic area, sports facilities and much more. These amenities are open all year round and are free of charge. There are many housing options within CB South from single-family homes to condos to townhomes, highlands verses down in the 'flats', riverside or ranch side. There's a mix of full-time residents and second homeowners as well. You typically get more home as compared to the price than in other areas at the north end of the valley without losing a sense of community. Here are the residential properties located in the Crested Butte South community. For more information regarding Crested Butte South, or if you are interested in buying or selling real estate here, feel free to reach out to me at 
[email protected]
 or at
970.596.1394
. We would love to help!

Sorry we are experiencing system issues. Please try again.

Crested Butte South is also known as CB South by the locals. As the name suggests, it is located 8 miles south of the town of the Crested Butte and is the largest subdivision in the Gunnison Valley. Currently, Crested Butte South is home to approximately 10% of the nearly 15,000 people who call Gunnison County home, giving it a strong sense of community. CB South has a number of unique amenities including a hockey rink, soccer field, tennis courts, restaurants, a coffee shop and a preschool. National Forest access is less than a 5-minute drive off of Cement Creek and one of the best early season hiking trails called the Caves Trail. Cement Creek is also used for dirt biking, mountain biking, fishing, hiking and nordic skiing in the winter. Within the subdivision, there are 30 acres designated as open or park space. Of those 30 acres, 12 are centrally located in Red Mountain Park, which is the main park for this community. Red Mountain Park offers a wide variety of activities and amenities including bike trails, boulder climbing, covered picnic area, sports facilities and much more. These amenities are open all year round and are free of charge. There are many housing options within CB South from single-family homes to condos to townhomes, highlands verses down in the 'flats', riverside or ranch side. There's a mix of full-time residents and second homeowners as well. You typically get more home as compared to the price than in other areas at the north end of the valley without losing a sense of community.